YOUR BURGER… AS UNIQUE AS YOUR BRAND !
YOUR BURGER… AS UNIQUE AS YOUR BRAND !
Watch & innovations
|
|
Published on : 15/07/2022
|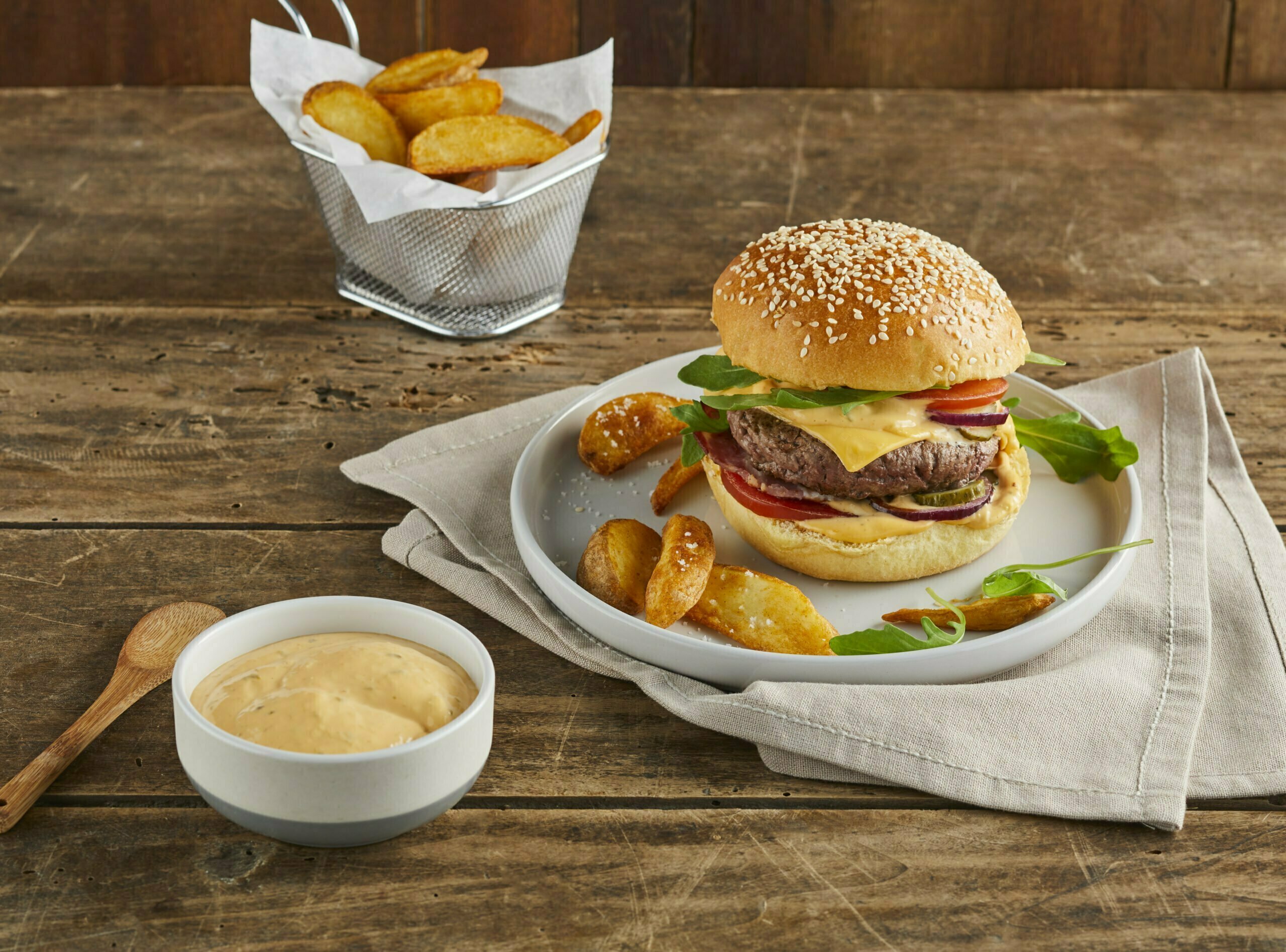 What about using a different sauce?
The sauce served with the burger must ideally complement the sandwich in order to create a perfect balance between outstanding taste and a light texture. The easy solution for a restaurateur is to use a standard sauce. By personalising the sauce, it is possible to stand out from the crowd and offer your customer a unique experience.
How to go about offering a burger with a difference?
A study conducted in the catering sector in France in 2019 found that more than 25 hamburgers are eaten per person every year. This represents more than 1.7 billion burgers consumed per year (source: study conducted by Cabinet Gira Conseil). This love of burgers leads eight out of every 10 restaurants to include burgers on their menus.
These burgers embrace a wealth of possible combinations of different types of bread (sesame buns, plain bread, brioche, etc.), the various steaks (beefsteak, veal, chicken, fish or even vegetable steaks), and all the other ingredients that can be added (egg, tomato, salad, gherkins, cheddar cheese, etc.).
Infuse your dishes with your personality and offer burgers with your signature sauce!
All restaurateurs are able to put a burger on their menus; however, offering your own burger with an identity that is specific to your own establishment is a little bit more difficult.
How can you stay faithful to the conventions surrounding the burger while adding something, while adding something new and different that your customers will like?
Whether traditional or pioneering, every burger deserves its own unique, authentic sauce. You can trust our teams to create the sauce that will harmonise with your burger.
As a specialist in the development of custom sauces and toppings, CAP Solutions Culinaires invites you to discover its delicious recipes for burger sauces. So why wait?
Tailor-made solutions are part of our DNA, so let's combine and work together to develop the final, inimitable touch for your recipes (taste, texture and special characteristics).
So what are you waiting for? Get in touch with CAP Solutions Culinaires and let's talk sauces.
Return to top
Read also
In the same category
Découvrez sur notre blog tous les articles et les moments clés de CAP Solutions Culinaires. Tenez-vous au courant de nos innovations et de nos évènements. Bonne lecture !